Window Cleaning in Poway CA
Poway CA's
Top Rated
Window Cleaning
Over 50+ Reviews on Google, Yelp, and Facebook
Request a Quote - It Only Takes 10 Seconds!
Quality Window Cleaning Services
For Even The Toughest Jobs
Clean windows can make a massive difference in the atmosphere of your home, and it's also a crucial element in the appearance of your business. Sure, there are many options for window cleaning services in Poway CA, but at Pure Cleaning Services, we delight in ensuring the details are completed to perfection. We turn stress to shine, and your windows will never have been cleaner! No matter the height of a building, from homes to restaurants to skyscrapers, the job will be completed professionally, safely, and efficiently. Pure Cleaning Services Company services San Diego, La Jolla, Rancho Santa Fe, Del Mar, Encinitas, and the surrounding areas in California.
Benefits Of Our Poway CA
Window Cleaning Services
Poway CA Post Construction
Window Cleaning
Do you have post construction windows in serious need of a cleaning? At Pure Cleaning Services, we use powerful, yet safe techniques to deep clean your post-remodel or post-construction windows. We understand that post construction window cleaning is much different than traditional window cleaning. It requires greater attention to detail and more experience to properly remove debris such as silicone, stickers, concrete, and paint overspray, without damaging the glass. At PCS, we clean not only the glass, but the frames and tracks to get the house or commercial property ready for use!
Our technicians hold certifications such as OSHA 30, fall safety, aerial lift training, suspended scaffolding, and more. And for your peace of mind, we hold "best in the industry" $7,000,000 in liability coverage. Count on Pure Cleaning Services for your latest window cleaning construction clean-up project in Poway CA. We've got our hard hats and PPE ready. Other services we offer with benefits include Window Cleaning, High Rise Window Cleaning, Pressure Washing, House Washing, Roof Cleaning, Solar Panel Cleaning, and Power Washing.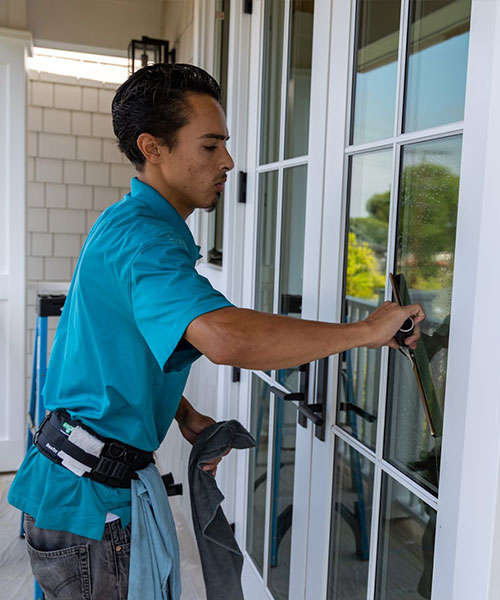 Are you in a rush?
Need To Talk To Someone Immediately?
Super Awesome Benefits For You To Enjoy...
We want you to know
We are committed to your happiness
What your neighbors have been
Saying About Our Services
Real Reviews From Happy Customers
Window Cleaning in Poway CA
Caleb with Pure Cleaning Services did an excellent job cleaning our windows. He was punctual, attentive and very conscientious. We will definitely use this company next time we have the need for window cleaning again. Thank you Caleb!
Madeleine Kershaw
Window Cleaning in Poway CA
I needed all the windows cleaned for my client's home as part of the preparations before listing it on the market to sell. Nick did an outstanding job! He was friendly, communicative, and prompt. I am very happy with the service and would recommend them for window cleaning to future clients and colleagues.
Wendy Carter
Window Cleaning in Poway CA
Alex did an absolutely amazing job on my windows! He has come twice now and both times, had been super friendly, professional, efficient, and very thorough, ensuring my windows were perfect before he left. I highly recommended Pure for window cleaning and be sure to request Alex!
W V
Our Simple 3 Step Process
Working with us is as easy as..
We can restore your property instantly!
We Provide the highest quality
Window Cleaning
in Poway CA

We offer a wide variety of cleaning services
So you won't have to look anywhere else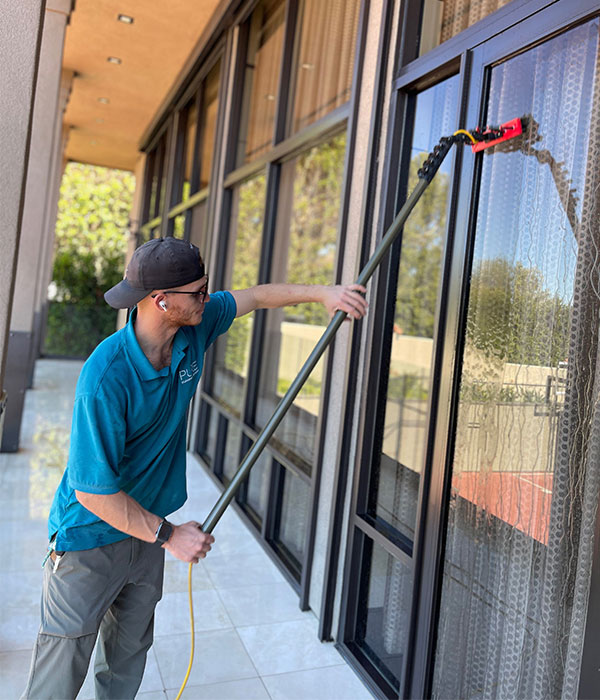 Frequently Asked Poway CA Window Cleaning Questions
Got Questions?
We've Got Answers
Ready to restore your property?