High Rise Window Cleaning San Diego CA
San Diego County's
Top Rated

High Rise Window Cleaning
Request a Quote - It Only Takes 10 Seconds!
Our Window Cleaning Company Has Been Featured On:




Safe and Dependable
High Rise Window Cleaning
Pure Cleaning Services is a leader in the San Diego high-rise window cleaning industry. We offer a comprehensive selection of window cleaning services to meet your commercial and industrial cleaning needs throughout San Diego County. We are qualified and have the experience to handle any building – from small to large. Our technicians have undergone rigorous training and hold "best-in-the-business" safety certificates for swing-stage operation, aerial lift operation, fall safety, and OSHA courses.
Safety is and always will be our highest priority while providing window cleaning on high rise buildings in San Diego. Each project is approached carefully with a thorough and detailed plan to complete the work safely and efficiently. OSHA standards are strictly adhered to, and all equipment is carefully inspected for damage or wear before each use.
Benefits Of Our San Diego
High Rise Window Cleaning Services
Trustworthy Workmanship
Producing Visibly Clear Results
Clearly, choosing a high-rise window cleaning company in San Diego is not something to be taken lightly. Our safety training and vast experience operating many types of façade access equipment have allowed us to successfully complete window cleaning on San Diego's most prominent high-rise buildings.
The results couldn't be more transparent – Pure Cleaning Services provides consistently clear high rise window cleaning in San Diego, with your budget and timeline in mind. Whether your building requires annual, semi-annual or quarterly service, Pure Cleaning Services is committed to providing the highest quality window cleaning service achievable.
Are you in a rush?
Need To Talk To Someone Immediately?
Super Awesome Benefits For You To Enjoy...
We want you to know
We are committed to your happiness
Our Simple 3 Step Process
Working with us is as easy as..
We can restore your property!
We Provide the highest quality
High Rise Window Cleaning
in San Diego CA

We offer a wide variety of cleaning services
So you won't have to look anywhere else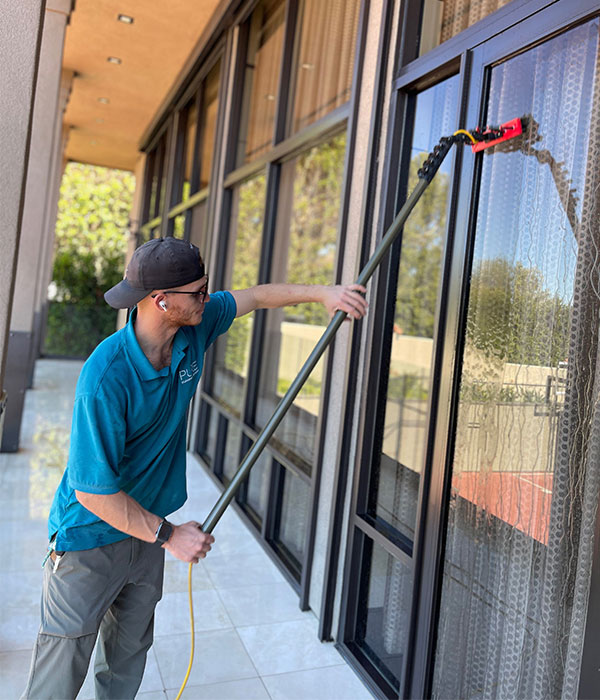 Frequently Asked High Rise Window Cleaning Questions
Got Questions?
We've Got Answers
Pure Cleaning Services provides services for property managers, HOAs, universities, military bases, construction companies, hospital systems, the State of California, and many others. Would you like references? We would be happy to provide it if you ask!
Our technicians hold certifications: OSHA 30, fall safety, aerial lift training, suspended scaffolding, and more. We also regularly obtain new certificates to comply with the specific onsite requirements of new job sites.
Absolutely! Your property is protected because of our $7,000,000 liability insurance policy (the highest in San Diego for a cleaning company). We also have workers compensation to protect our staff on-site at your property. In 17 years, because of our safety training, we are proud to acknowledge that we have never had to file a workers compensation claim.
Ready to restore your property?