Gutter Cleaning San Diego CA
San Diego County's
Top Rated
Gutter Cleaning
Request a Quote - It Only Takes 10 Seconds!
Our Window Cleaning Company Has Been Featured On:




Trusted and Reliable
Gutter Cleaning Service
Gutter systems are designed to route water safely and prevent significant water damage to a building. They collect rainwater and redirect it away from the foundation of the building. This helps to prevent expensive and problematic damage from occurring to a building. Even in San Diego, having clean gutters is very important. Gutter systems can collect a great deal of debris throughout the year, which can cause blockages to occur and the system not to function effectively. Annual gutter cleaning services can help to prevent issues and blockages from occurring.
Benefits Of Our San Diego
Gutter Cleaning Services
Keeping Gutters
Clear and Free Flowing
Surprisingly, gutters can get clogged by non-organic material, like a tennis ball, roof tile, or shingle rock sediment. So even without something as obvious as an overhanging tree, a blockage can lead to unwanted stress on the hangers, resulting in premature hanger failure. Pure Cleaning Services recognizes the importance of clear and free-flowing gutters and is ready to provide unbeatable service in San Diego.
Are you in a rush?
Need To Talk To Someone Immediately?
Super Awesome Benefits For You To Enjoy...
We want you to know
We are committed to your happiness
Our Simple 3 Step Process
Working with us is as easy as..
We can restore your property instantly!
We Provide the highest quality
Gutter Cleaning
in San Diego CA

We offer a wide variety of cleaning services
So you won't have to look anywhere else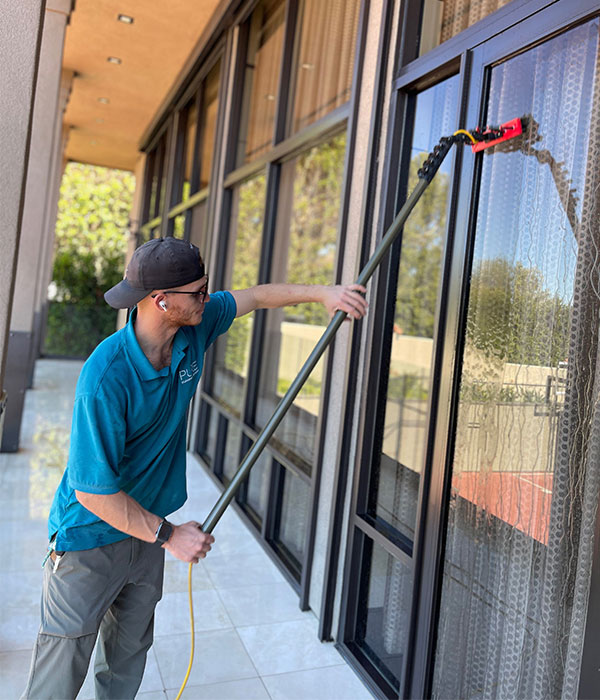 Frequently Asked Gutter Cleaning Questions
Got Questions?
We've Got Answers
Yes, it can. Unfortunately, damage can happen without one's knowledge. Annual gutter inspections and cleanings can prevent unnecessary damage.
Clogged gutters can lead to many types of damage. Some of them are facia board rot, premature hanger failure, and foundation damage. Having your gutters inspected and cleaned before each rainy season begins is a good investment.
Absolutely! Your property is protected because of our $7,000,000 liability insurance policy (the highest in San Diego for a cleaning company). We also have workers compensation to protect our staff on-site at your property. In 17 years, because of our safety training, we are proud to acknowledge that we have never had to file a workers compensation claim.
Ready to restore your property?